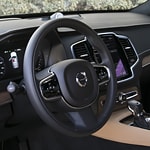 Volvo XC90 represents a seamless fusion of sophistication and power. It dominates the luxury SUV category with its elegant styling, spacious cabin and trend-forward safety and tech features. Its performance is also off the charts. Take the following two performance features selected by our Deel Volvo Cars team.
Driver-Adjustable Power Steering
Get more or less power steering assistance with Volvo XC90's Driver-Adjustable Power Steering. The speed-dependent system delivers your selection of low, medium or high power steering assistance based on preset speeds you designate. The result is minimal or optimal power steering when Miami roads get busy, wet, icy or dark.
Next-Gen Stick Shift
Instead of a clutch, XC90's manumatic transmission comes equipped with paddle shifters. They do the same job as a stick, but they're conveniently located near the steering wheel. They shift gears smoothly and without any lag. Plus, their closeness to the steering wheel lets you keep your hands where they belong and your eyes on the road.
Discover more of Volvo XC90's standout performance features with a test drive at Deel Volvo Cars today.