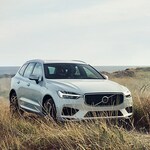 Are you ready to drive a luxury performance SUV? If so, the XC60 R-Design is a great option for you to consider. It's a popular Volvo that has a lot to offer, especially if you have exquisite taste in vehicles.
Lane Keeping Aid

The XC60 R-Design has a lane keeping aid to promote safety on the road. It's for the purpose of preventing an accident if a driver heads into another lane unintentionally. This is one of many ways in which Volvo prioritizes safety.

Sensus Navigation

?There's a 12.3-inch digital display in the cabin of the Volvo XC60 R-Design. This display is how you will engage with the Sensus navigation system, which provides updated information that helps you reach your destination promptly and safely.
It's time for you to test drive the Volvo XC60 R-Design. You'll enjoy experiencing all that it has to offer. Contact Deel Volvo Cars today!